Welcome to Smart Nutrition
Where you can find a broad range of Functional Medicine Health Tests.
Emma Wells AFMCP, Dip ION, mBANT, CNHC, NTCC consultant to Smart Nutrition Ltd is a registered Nutritional Therapist and is happy to help with any of your test enquiries should you need any guidance.
Choosing the right digestive test
Please watch out video to help you choose your digestive test.
All about Emma
Emma Wells has helped to improve the health of former cabinet ministers (MEP's), West end musical and pop stars. she has advised Saatchi & Saatchi, Mclaren and Unilever amongst others. Emma has also worked along side Carol Caplin at her Lifesmart gym and Michael Franklin and his IBS and gut disorders centre and now runs busy weekly IBS and digestive health clinics of her own at Emma Wells Ltd.
Keen to Keep up to date with the latest research Emma Wells Lectured widely at four of the top UK Nutrition colleges for over 12 years covering digestive health and testing, stress, Food Allergy and intolerance, mental health, mens health as well as many other subjects.  Emma is currently studying to be a functional medicine practitioner. Emma Wells has regularly written for many national magazines such as Men's Health, Zest, Allergy, Cook vegetarian, Country walking and more. See Emma's Smart Nutrition articles and Latest Men's Health piece Emma Wells has also appeared as an expert nutrition source on TV and radio
Since qualifying over 20 years ago Emma Wells now enjoys helping people to improve their health, increase their energy and vitality, achieve their goals and feel positive about the future. Emma works with a high degree of integrity, confidentiality and respect when dealing with individuals and public figures.
What is Functional Medicine?
Functional medicine emphasises a definable and teachable process of integrating multiple knowledge bases within a pragmatic intellectual matrix that focuses on functionality at many levels, rather than a single treatment for a single diagnosis. Functional medicine uses the patient's story as a key tool for integrating diagnosis, signs and symptoms, and evidence of clinical imbalances into a comprehensive approach to improve both the patient's environmental inputs and his or her physiological function.
The Institute for Functional Medicine teaches health care professional's how to apply these principles in practice through an intensive 5 day training course called Applying Functional Medicine in Clinical Practice™. Emma attended and completed the AFMCP™-UK training in London in 2017 and the Gastrointestinal module in 2013. She is currently working through the remaining 5 modules with one to go in feb 2020 then a case history and an exam.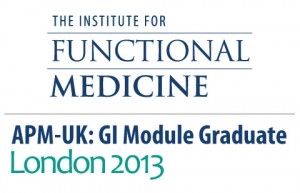 Meet our doctors
As standard many of our tests include a personalised report from one of our qualified doctors. If your test isn't one of them you will be offered the option of asking one of the team to comment on your results.
Get to know some of our great team here!
Dr Elaine McQuade
Dr. McQuade adopts a personalised approach to each individual, valuing the importance of communication and relationship development with each patient and looking at all aspects of their health- emotional, physical and psychological health. She is keen to develop teaching and training in more holistic health care for doctors and healers and to help them look after themselves.
Dr. McQuade practices functional medicine – a holistic approach to healthcare – as a complement to her speciality of bioidentical hormone replacement therapy. She approaches health from the perspective of diet, nutrition and lifestyle. Promoting health and wellbeing as well as self-care is very important to her.
Dr. Elaine McQuade studied medicine at Queens University Belfast and specialised in palliative care before completing her GP training. She has worked as a GP in Hertfordshire since 2008 and has become an associate trainer, training new GPs. She has also worked at a local hospice, using her expertise in palliative care. Now, in addition to her work at the Marion Gluck Clinic, she does some of her own private work and has ran a few retreats on holistic health.
GMC registration no.
How it works
Click on the icons below to find out more
Nutrition Consultation
If you are interested in a nutritional therapy consultation with Emma Wells consultant to smart nutrition please do get in touch.
Health Tests
Smart Nutrition has teamed up with aa selection of the UK's leading laboratories to offer you a broad range of tests to help assess your health needs.
Buy Supplements
If you are looking for a broad range of supplement carefully selected by leading nutritional therapists to help you look after your health then click below